About Us
We are the fundraising & volunteer support organization for the Music Departments
at
South Pasadena Middle School
Arroyo Vista Elementary
Marengo Elementary
Monterey Hills Elementary
​We aim to help inspire students, assist the music teachers, seek out new student performance opportunities, expand the music program, and provide bonding activities for music students.
JOIN US in developing and maintaining an incredible music program for our talented SPMS and 5th grade music students.
Thank you to SPMS and the School District for partnering with us.
---
SPMS Music Department
Orchestra Director: Ashley Diggs
Band Director/5th Grade Band Teacher: Trey Farrell
Band Teacher: Mr. Orindgreff
Choir Director: Wylder Reinman
---
Thank you to our sponsors: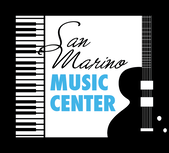 Huntington Store
916 Huntington Drive
San Marino, CA 91108
(626) 300-0848
Mission Store
2575 Mission St
San Marino, CA 91108
(626) 486-9882